See you in 2016 China Refrigeration Expo; Focus on High-efficiency frequency conversion brushless DC motor
Hengdrive Electric Co, .ltd will attend the 27th International Exhibition for refrigeration, air conditioning, heating, ventilation and food frozen processing (China Refrigeration Expo). The exhibition is held from April 7 to April 9, 2016 New China International Exhibition Center New Venue, Beijing. Hendrive will show the compressor brushless frequency conversion motor, refrigerator condenser fan, air condition fans brushless motor, high-efficiency ventilation fans brushless motor, cross flow blower brushless motor for heating equipment, and so on. Welcome to visit our booth E4F68.

Initiated in the year of 1987, with the rapid growth of China's HVAC&R industry as well as the support from relevant government departments and companies in this industry, China Refrigeration Expo has been reputed as one of the leading exhibitions in HVAC&R industry for its 30-year persistent improvement and innovation. The exhibits cover the refrigeration equipment, air conditioning, ventilation plants, heating equipment, assembly supplies for refrigeration and air conditioning, and so on.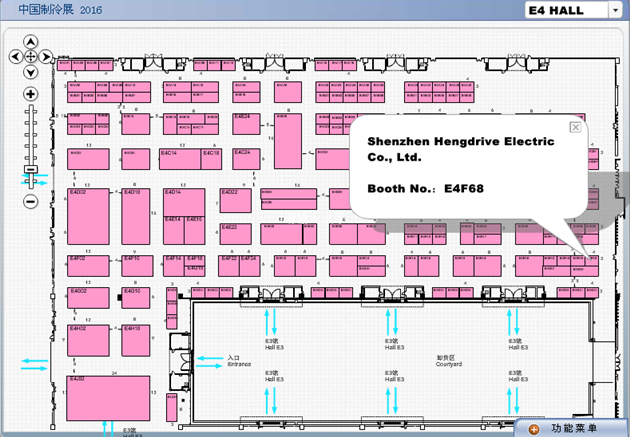 There are industry-related companies and organizations from 31 countries and regions in the world, a total of 1126 exhibitors, all brought together well-known brands in the world HVAC refrigeration industry, which including the United States, South Korea, India and European countries pavilions, it is expected to have nearly 60,000 professional visitors and users who come from more than 100 countries and regions to visit us. During this scaled exhibition, Hengdrive hope to meet more friends, discuss brushless motor solutions in HVAC&R industry for a wider range of application.
ADD:New China International Exhibition Center, Beijing;Shunyi District, Beijing Tianzhu area No. 88 Yuxiang Road
Shunyi Malian Bus station :
867; 915; 916; 923; 933; 936; 942; 955; 980;
Subway:China International Exhibition Center (Line 15)