Brushless Motor For Small Power Cross Flow Blower
Source:Shenzhen Hengdrive
Editor:hengdrive
Author:hengdrive
Visit:

-
Release time:2014-11-05 01:50
Cross flow fan is first proposed at 1892 by a French engineer Mortes (Mortier), it is a multi-leaf type impeller, with long cylindrical and forward multiple airfoil.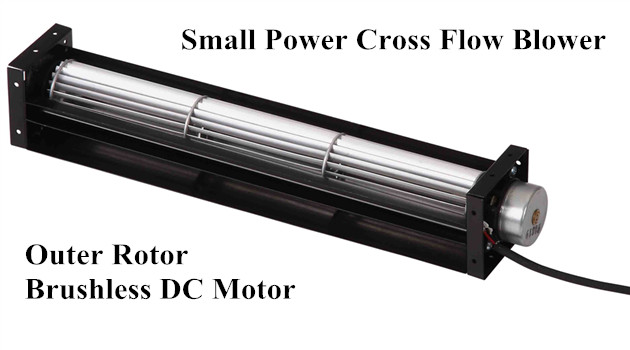 The cross flow blower is assembled by impeller ,duct and motor. Generally the impeller is aluminum alloy or plastic: the aluminum alloy impeller is high-strength, light weight and high temperature, it can maintain long-term stable operation without distortion; the plastic impeller usually mold injection, and then welded together by ultrasonic, it has larger diameter and generally used for low speed situations.
Duct is generally sheet metal stamping,and also may be plastic or aluminum casting. Streamlined chassis design, which can effectively reduce the loss of air flow, so that greatly improved the efficiency of the fan.
Motor is a dynamic part of the cross flow fan, AC or DC power supply are both ok. if AC power , there are shaded pole motors and capacitor start motor. For DC power, brushless DC motor is the best choice. Motor and impeller are flexible installation, and generally fixed to the duct together.
Hengdrive outer rotor brushless dc motor B3725S with built-in controller specialized for small power cross flow blower.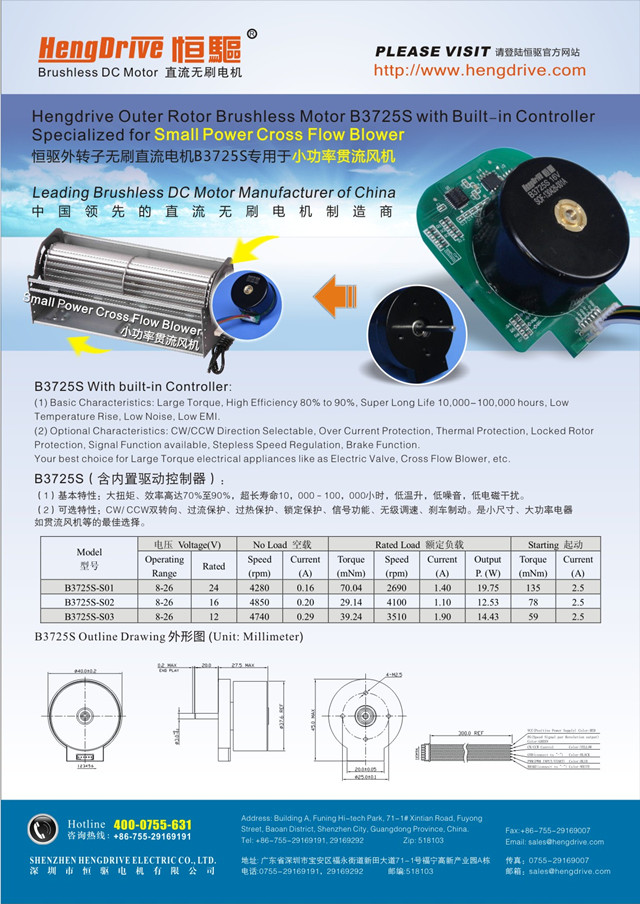 It also can be used for Heating and cooling fan. If the stucture is the inner rotor version, Hengdrive bldc motor B3650M is recommended!