Hengdrive B2418M :Specialized for the Hair Curler
Source:Shenzhen Hengdrive
Editor:NSW
Author:NSW
Visit:

-
Release time:2013-08-15 21:59
There is a saying that we can make money from women and children easily . For the hair curler, women have experienced its glamour. What we manufacturer need do is to let the women are willing to pay for it .
with the improvement of living standard, hair curler gets increasingly common and has become a daily necessity . Most users focus on its light weight and excellent quality and reasonable price. And the motor , as the most important part of the hair curler , undoubtedly cost a lot . Brushed motors cost low, and lifetime is short , which is a fetal weakness for the manufacturer and bring a bad influence on company's brand and image. Both the technology and quality of the 13H
BLDC motor
made by the Japan is first-class, of course , the price is rather expensive . Under this circumstance , a made-in-China motor with high performance is a good choice for the hair curler manufacturer. The B2418M motor made by Hengdrive is exactly a motor with mini size and good performance which is specialized for the hair curler.
The following is the specification sheet of the Hengdrive B2418M :Specialized for the hair curler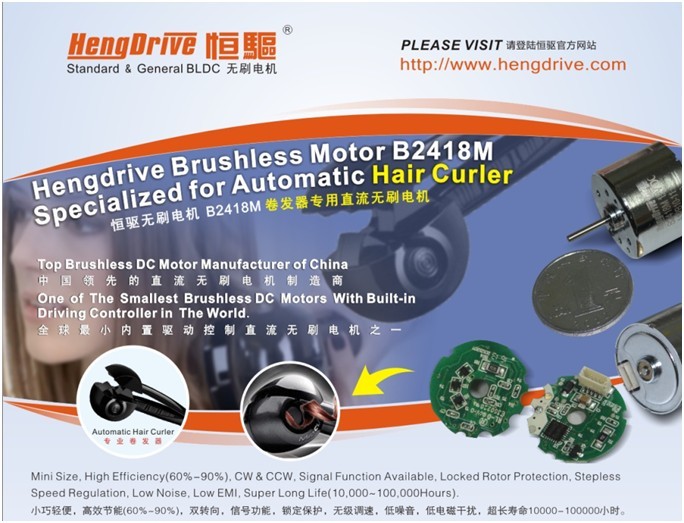 The dimension of this motor is 24*18mm. The weight is light. The torque and the speed is enough even the power is 6v. And it can be charged with the battery, which is very suitable for portable hair curler. Other parameters are elaborate . It can meet multi-usage, such as business application , home appliances and so on .
For more information, please pay attention to the website
www.hengdrive.com